Classic Ford Falcon Camper Conversion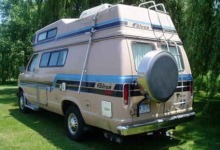 The Ford Falcon Camper van is a commonly sought after classic campervan conversion from the first generation of the Ford E-Series. The first generation Ford E-Series made from 1961 to 1967 was then known as the Ford or Mercury Econoline along with the Ford Falcon Club Wagon.
Ford Falcon Features & Specifications
This classic Class B motorhome is considered a collector's item among RV enthusiasts. It was based on the highly popular Ford Falcon full size car that Ford made during the 1960s. The Falcon van featured a flat nose and the following stock specifications.
Production Years: 1961, 1962, 1963, 1964, 1965, 1966, 1967
Body Styles: 3-door van / 2-door pickup truck
Layout: Front-engine, rear-wheel-drive (FMR)
Engines: 144 cid Falcon Six I6 / 170 cid Thriftpower Six I6 / 240 cid I6
Transmission: 3-speed manual
Check our Classifieds page if you are looking for a Ford Flacon Camper Van for sale.