Sportsmobile & Quigley Ford 4X4 Van Conversions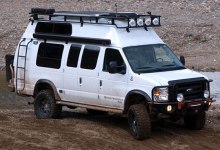 A highly sought after and rare Class B motorhome is a Ford 4X4 Campervan. The benefits with a four-wheel-drive camper van are that not only is mobile sleeping convenient, but the vehicle is also capable of getting too hard to reach places. These vans are also typically equipped with other off-road utilities such as oversized mud terrain tires, brush guards, rock rails, roof racks, auxiliary lighting and short wave communication devices such as CB or Ham radio among other features.
The reason these types of 4x4 camper vans are rare is that Ford does not makes the E-Series vans off the production line equipped with four wheel drive. This is a feature that must be added to the van post production. Adding 4WD to an E-Series van requires modifying the driveline along with adding a transfer case and place inside the cab that allows for shifting in and out of 2wd, 4hi and 4lo.
Some 4X4 vans are just that, made for off-roading or utility purposes only, however a true 4x4 van requires also modifying the inside to reflect that of a Class B motorhome. This could include many modifications however at the very minimum requires installing sleeping quarters and other storage.
There are a handful of third party companies that handle Ford 4x4 Van conversions with Quigley being one of the leaders. Sportsmobile however makes a custom 4X4 RV that is based on the Ford E350 regular or extended body van. It is for this reason that when many RV enthusiasts are referring to a Ford 4x4 Camper van they are actually speaking to the Sportsmobile West Inc. model.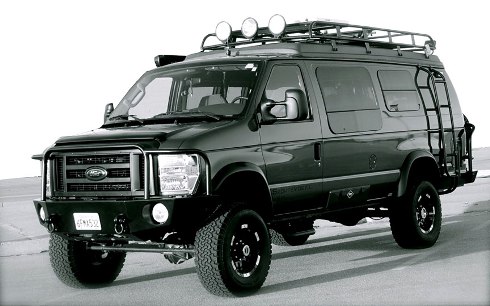 New Sportsmobile Ford 4X4 Cost & Lead Time
Cost for these vans new from Sportsmobile range from $60,000 to $90,000 and take up to 8 months to complete. Note that these 4x4 camper vans are very heavy duty and including the following upgrades, add-ons and modifications.
Sportsmobile 4X4 Camper Van Features & Specifications
Ford E-350 1 Ton, GVWR 9,500
Engine: 6.8L V-10 or 6.0L Diesel / Transmission: 4R100 / Torqshift 5-speed
Advanced Adapters Atlas II All Gear Driven Transfer Case (3.0 or 3.8:1 gear ratio)
Dynatrac Pro-Roc 60 Front Axle
Dana 60 Rear Axle w/ 4.10:1 Gear Ratio (Towing Package)
High Knuckle Front End for Extra Tie Rod Clearance
Extra Heavy Duty Steering Arm
Horizontal Drag Link Eliminates Bump Steer
Spicer 1350 One-Ton Rated Driveline Components
Open, Limited Slip, or Locking Differentials
Partial Military Wrap Springs Designed Specifically for a Sportsmobile Conversion.
Optional equipment also includes front and rear performance ARB differentials, rear sway bar suspension upgrades, full floating rear end, on board air for tires, cleaning filters and running air tools.
Used 4X4 Camper Van For Sale
While rare though used model Sportsmobile 4x4 Camper vans can be found for sale. Check our Classifieds page, RV Trader, Craigslist or local Class B motorhome for these offers. Another good resource for used Sportsmobile vans, parts and accessories is the Sportsmobile Forum. It should also be noted that Sportsmobile will retrofit used Ford E350 vans to make them 4x4 capable. Learn more on there Sportsmobile 4WD page.